Print Braille from USB memory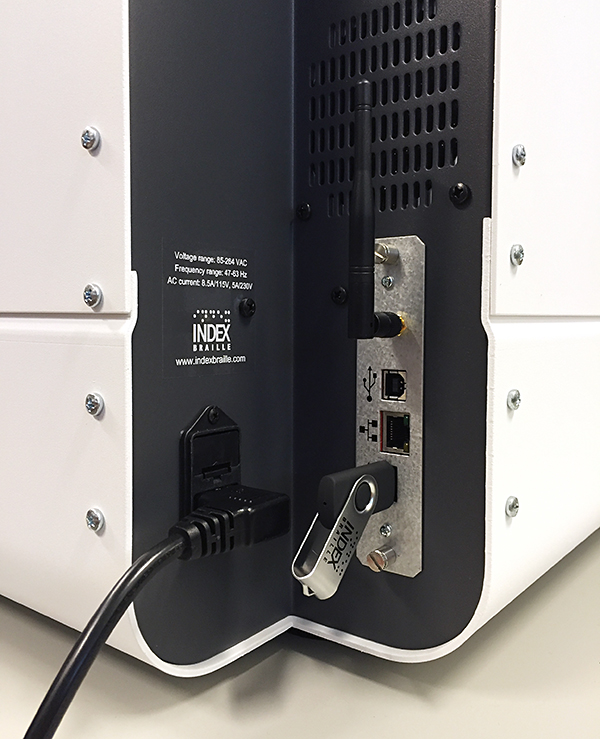 Connect your personal USB memory stick to the USB host port connector on the V5 Index Braille embosser to emboss standard files using Index-direct-Braille: idB. [ie. emboss without using a computer]
Currently supported file formats for direct braille printing from USB are:
The braille translation, available in contracted or literary braille format, will be made using the active layout settings selected during the set-up of the braille embosser.
.brf and .brl files are additionally supported for printing with idB, however the translation and formatting comes from the original file. There are no changes to the braille signs or formatting.
Back-up and restore embosser settings
Index Braille embossers are loaded with many features and layout setting options. This is so that users have the opportunity to emboss different kinds of Braille documents, all available in a single braille embosser.
Setting options include:
paper size

print type

single sided

double sided

booklet format

z-folding

z-folding sideways (vertical printing)

braille page layout

top margin
binding margin
lines per page
characters per line
braille page number
folding line (if using booklet format)
braille translation (language, braille grade and version)
By backing up layout settings to a USB memory stick, users can save any personalized layout settings. Backed-up layouts can be used for:
restoring personal settings on another Index V5 embosser.
restoring personal layout settings after service.
quickly localize the setup of a new Index V5 embosser.