Nominet Trust, the UK's leading tech for good funder, has today unveiled the 2016 NT100 - a celebration of the 100 most inspiring social innovations using digital technology to drive social change around the world. Now in its fourth year, the 2016 NT100 gives special recognition to 'Everyday Tech Heroes' — the inspirational people who have first-hand experience of the challenges they are tackling with tech.
The organisations chosen for this year's NT100 have wide-ranging purposes, from those determined to democratise access to quality education and healthcare, to those connecting minority communities and evoking empathy. As in 2015, improving humanitarian response was again a strong and topical theme. But while the projects featured in the 2015 NT100 were largely responsive, in 2016 they demonstrate how humanitarian resources can be predictively deployed to mitigate crises and make sure scant resources are used well.
You can see the full list of 100 here: http://www.socialtech.org.uk/nominet-trust-100/2016/
Here are some notable inclusions from our world of assistive technology:
Marita Chen, Alberto Rizzoli and Simon Edwardsson are founders of a Melbourne-based startup called Aipoly. They are working on the current holy grail of vision assistance – a smartphone app that works even without a signal. Developing the prototype at Singularity University in the US, the co-founders launched a working app in March 2016, with impressive results.
Visually impaired users can use the app to point their phone at objects around them, and a voice describes the objects in real time (a choice of a male or female voice is available). The app integrates with Google Translate, which means that Aipoly can 'speak' in seven different languages.
2. Dot Watch - The first Braille smartwatch
Display's that read Braille text in real time typically cost between $2,000 and $15,000, and cheaper Braille texts are very laborious to read – a full Braille Bible for example is typically 40 volumes. Most people with access to smartphones rely on voice-recognition software like Apple's Siri to 'read' communication from loved ones.
Kim's team developed a smartwatch that uses magnets and a grid of pins, which can be raised or lowered to make four Braille letters at a time. It links up with Bluetooth to convert text from apps like iMessage into Braille letter equivalents. Impressively, the device can last for five days on a single charge and comes with a relatively low price tag of $290 plus tax.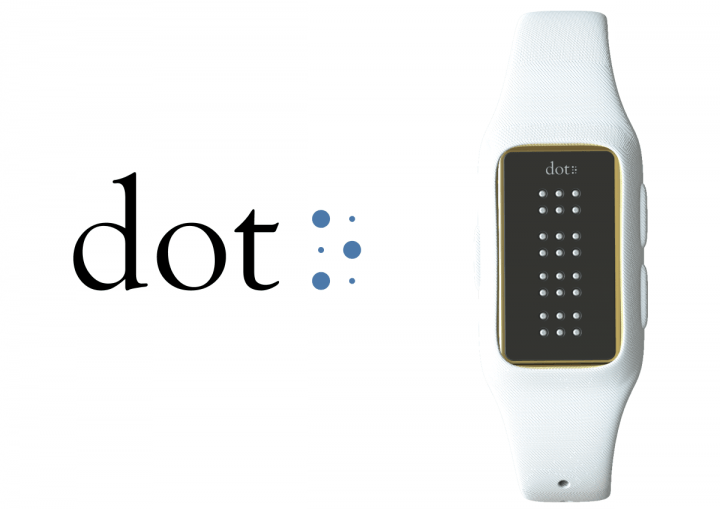 3. Manovue - Camera-equipped glove helps the blind
While studying computer engineering at Manav Rachna University in India, 20-year-old Roopam Sharma wanted to develop a game for people who are colour-blind. It was during his research that he learned that there had been next to no innovation for the blind since Braille was invented more than 200 years ago, and that's in spite of 285 million people suffering from visual impairment around the world, according to the World Health Organization.
Astonished by the lack of innovation, Sharma interviewed 60 blind people in India, and concluded that those with visual impairment face three major problems: reading text unless it is in Braille, navigating their environment, and using smartphones.
Setting to work to address all three problems, Sharma came up with a device called Manovue (from Spanish 'Mano' meaning 'hands', and French 'vue' meaning 'vision'), which the user wears like a glove.
The index finger of the glove has a camera that captures images of text, converting written words to audio as the user moves his finger over a page. The lower part of the palm receives signals from the environment, vibrating if an obstacle is near, and signalling whether it is on the right, left or ahead of the user.
4. Pips - Open-source IoT buttons help partially sighted children
Pips, created by senior Nominet researcher David Simpson, provides an Internet of Things (IoT) solution that can help partially-sighted children navigate their environment through a playful and interactive way.
Pips are a series of palm-sized buttons that can be attached to walls and furniture.  When a child presses the first button in a series, it lights up and beeps, while activating the next button for the child to press. Several buttons can be placed on a staircase for example, so a child can learn to go up and down stairs by finding each button and pressing it.
Pips is built around a Light Blue Bean micro-controller, which uses Bluetooth to send and receive messages, and a 'gateway', such as a laptop or Raspberry Pi, to run the software. It is fully open source, which means that anyone can download instructions on how to build their own buttons and adapt them to their needs.